Stanley 40 oz Quencher vs. Ealgro 40 oz Tumbler: Battle of the Beverage Titans
Recently at my granddaughters high school volleyball tournament I felt like an oddball, as I was pretty much the only adult not hauling around a huge Stanley 40 oz Quencher cup. These Large Adult Sippy Cups (LASCs) seemed to be everywhere, and in every color. I, on the other hand, had a reused 32 oz water bottled with MIO energy added into plain water.
Everyone with the Stanley cups had nice cool refreshing liquids. I had a bah-bah, not a sippy cup. When we got home I looked up these giant marvels of hydration and blanched at the price. 460, $70, $80 for sippy cup? Nay nay nay. I opened a Ealgro, for about $17 from Amazon. So far I'm happy with it, but I feel slightly, I dunno, inferior.
Introducing the Stanley 40 oz Quencher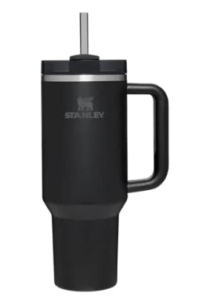 For over a century, the Stanley brand has been synonymous with durability, reliability, and innovation. Their newest addition, the 40 oz Quencher, continues this proud tradition, marrying classic design with modern functionality.
Strengths:
Heritage & Trust: Stanley has a long-standing reputation for producing high-quality products that last.
Built Tough: Known for its rugged construction, the Quencher is designed to withstand the knocks of everyday life, making it perfect for camping trips, hikes, and more.
Superior Insulation: Keeps your beverage cold for up to 16 hours or hot for up to 7 hours.
Leakproof Design: The Quencher's tight-sealing lid ensures no spills, so you can toss it into your backpack without any worries.
Eco-Friendly: Designed to reduce single-use plastic consumption, contributing to a greener planet.
Weaknesses:
Bulkiness: Its robust design can make it a bit cumbersome for daily commutes.
Price Point: Often a bit pricier due to the brand's premium positioning.
You can get it right here, right now!
Enter the Ealgro 40oz Tumbler with Handle
A strong contender in the beverage container arena, Ealgro's 40oz Tumbler adds a touch of ergonomics with its built-in handle, ensuring a firm grip no matter where you are.
Their Amazon page says: "our hot and cold tumblers keeps your favorite beverages HOT for 12 hours and COLD for 34 hours , and ice lasts overnight."
The hot part I can tell you is spot on. I have not tested the coldness time yet.
Strengths:
Ergonomic Handle: Makes for comfortable holding over extended periods and ensures you have a good grip.
Durable Construction: While slightly less rugged than the Stanley, it's still built to take a hit.
Cost-Effective: Often available at a slightly lower price point, giving budget-conscious consumers an excellent alternative.
Versatile Use: Perfect for both hot and cold beverages, ensuring your drink remains at the desired temperature for hours.
Easy Cleaning: Designed for simple and efficient cleaning, saving you time.
Weaknesses:
Insulation Period: While it provides decent insulation, it might not retain temperatures as long as the Stanley Quencher.
Brand Recognition: Ealgro might not have the same heritage or trust factor as the long-standing Stanley brand.
You can get it right here, right now!
The Verdict
Both the Stanley 40 oz Quencher and the Ealgro 40oz Tumbler with Handle are stellar choices, each catering to a different audience.
Choose the Stanley 40 oz Quencher if:
You prioritize brand trust and product longevity.
You need a truly leakproof design for rigorous activities.
You are willing to invest a bit more for a product with a long-standing reputation.
Opt for the Ealgro Tumbler if:
You value ergonomic design and the added convenience of a handle.
You're looking for a cost-effective yet durable tumbler.
Easy cleaning is a priority for you.
In the end, the best choice is one that aligns with your individual needs, preferences, and budget. Happy hydrating! I chose the Ealgro, but you may prefer the Stanley 40 oz Quencher.
~~~~~~
About The Author
Bucky can be found on TikTok, YouTube, Instagram, Twitter, Facebook and a few other places, as well as right here on Friendslr.com
Friendlsr.com
Friendslr.com is a social network, and occasionally staff or guest will write articles. Friendslr is free to use. Become a member, join today!
Check out our community as well! You can find that on our home page. It's a little like Facebook, but clean, and no arguing is permitted.
More articles can be found here! Did you enjoy our article on TikTok ads? Tell a friend!
You can also create your own page here! Use this to generate a free page for your hobby or interest
Visited 10 times, 1 visit(s) today